Make your own oat crunchy muesli
January 21, 2021
Breakfast
Nutrition
Breakfast
Nutrition
Are you looking for a healthy breakfast idea that gives you the energy you need for the day and tastes good too? How about an oat crunchy muesli for breakfast?
This delicious granola muesli or oat crunchy muesli is quick and easy to make yourself. In addition, crunchy muesli provides you with many vitamins and fibres that your body needs. What exactly oat crunchy muesli is and how you can prepare this breakfast, we will tell you in the following article.
What exactly is the Oat Crunchy Muesli?
An oat crisp basically consists of normal oat flakes or wholemeal oat flakes, vegetable oil and something containing glucose. This can be normal sugar, but also sugar beet syrup or honey for your crunchy muesli.
The more sweeteners you use in your crunchy muesli, the crunchier it will be. The oats provide an excellent basis to flavour your granola muesli / crunchy muesli individually. Crispy muesli also tastes great in porridge. With different toppings for your crunchy muesli, such as nuts, seeds, fresh fruit or berries, there are no limits.
How can I make my own oat crunchy muesli?
Since bought crunchy muesli is often not quite cheap and contains too much sugar for a healthy diet, it makes perfect sense to make the crunchy muesli yourself. Create your own recipe. Depending on your needs, you can also put together a gluten-free and vegan crunchy muesli recipe. As a basis for the crunchy muesli recipe, you first need 500 grams of oat flakes.
You can add six to eight tablespoons of vegetable oil, such as sunflower oil, to the flakes for the crunchy muesli. Now you can use honey, maple syrup or sugar beet syrup as a sweetener for your crunchy muesli, depending on your own preferences. Agave syrup is also a popular sweetener for crispy muesli, as it is cheaper than honey and contains many minerals. With your crispy muesli recipe, you have the chance to vary and decide for yourself how much sugar or honey you want to use. Again, between six and eight tablespoons is recommended.
There are two ways to bake your crispy muesli. In a pan on the cooker or in the oven. If you want to bake it on the cooker, put all the ingredients for the crispy muesli in the pan and heat the plate fairly high. Stir the mixture well. After a light caramel smell rises and the flakes of the crunchy granola have taken on a light brown to golden colour, your crunchy granola is ready.
You can also prepare the healthy granola muesli or crunchy muesli recipe super simply in the oven. Preheat the oven to 180 degrees. Spread the mixed ingredients of the crunchy muesli on a baking tray lined with baking paper. Chop nuts such as almonds or walnuts beforehand. Place the tray in a warm oven and bake for 15 minutes until the oat flakes are a nice golden brown colour.
Now you can let the crispy muesli cool down and store your baked oatmeal in an airtight container.
Print Recipe
Bircher Granola – simple recipe
The muesli original reinterpreted – You can easily make your own Bircher Granola and have many mornings full of crunch and crisps.
Instructions
Preheat the oven to 180° (top and bottom heat). Line a baking tray with baking paper.

Chop the hazelnuts with a knife until they have the desired size. If you like, you can also use whole hazelnuts.

Mix Bircher Muesli, oat flakes, chopped hazelnuts, linseed, cinnamon and salt in a large bowl.

Add vegetable oil and maple syrup and mix well again so that the whole muesli mixture is covered with oil and maple syrup.

Pour the mixture evenly onto the prepared baking tray and spread.

Bake for 10 minutes, then remove from the oven briefly, turn the mixture over with a spoon and bake again for another 10 minutes.

As soon as the granola gets a crispy brown colour, take the tray out of the oven and let it cool down. Attention: During the last few minutes you should keep a good eye on the crunchy granola so that it does not burn.

For serving we recommend (plant based) yoghurt and fresh, diced apples.

For storage, pour the granola into an airtight sealed glass jar. Eat within 2 weeks.
Nutrition
Serving:
100
g
|
Calories:
466.4
kcal
|
Carbohydrates:
51.3
g
|
Protein:
8.3
g
|
Fat:
23.4
g
Which cereals should you use for your muesli?
Oat flakes are the most commonly used cereal for granola or crunchy muesli. No wonder, they contain many vitamins, fibre and minerals that are good for our bodies. The flakes for your crunchy muesli are also available in a gluten-free version. Of course, spelt flakes, rye, wheat or rice flakes are also delicious. They are also healthy and delicious.
Seeds, nuts and nuts for the right bite in muesli?
To give your muesli the right bite, you have the choice of either using purchased mixes or choosing the right toppings and ingredients yourself. Very popular ingredients include sunflower seeds, almonds, sesame seeds or pumpkin seeds as toppings for your crunchy muesli. Seeds such as chia seeds, sesame seeds and hemp seeds are suitable ingredients.
The seeds and kernels all contain important dietary fibres, proteins, minerals and some even contain the good omega-3 fatty acids. Many also like to use coconut, roasted almonds or walnuts for a "bite-sized crunchy muesli". Tip: The Crunchy also tastes great on a warm oatmeal.
The necessary sweetness for the right taste in muesli
This question about the right sweetness of your crunchy muesli is a science of its own and can be answered differently depending on your preferences. If you want a special crunchy muesli, you need to sweeten your muesli more. Some like to have little sugar, which is of course also possible. The right ingredients are easy to find for everyone.
It is recommended to use a natural sweetener instead of pure sugar as an ingredient in crunchy muesli. If you are going to use sugar, then you should use healthier options such as palm sugar, coconut blossom sugar or birch sugar. The other option is to add liquid ingredients such as honey, maple syrup or rice syrup.
Which dried fruits and berries can I use for crunchy muesli?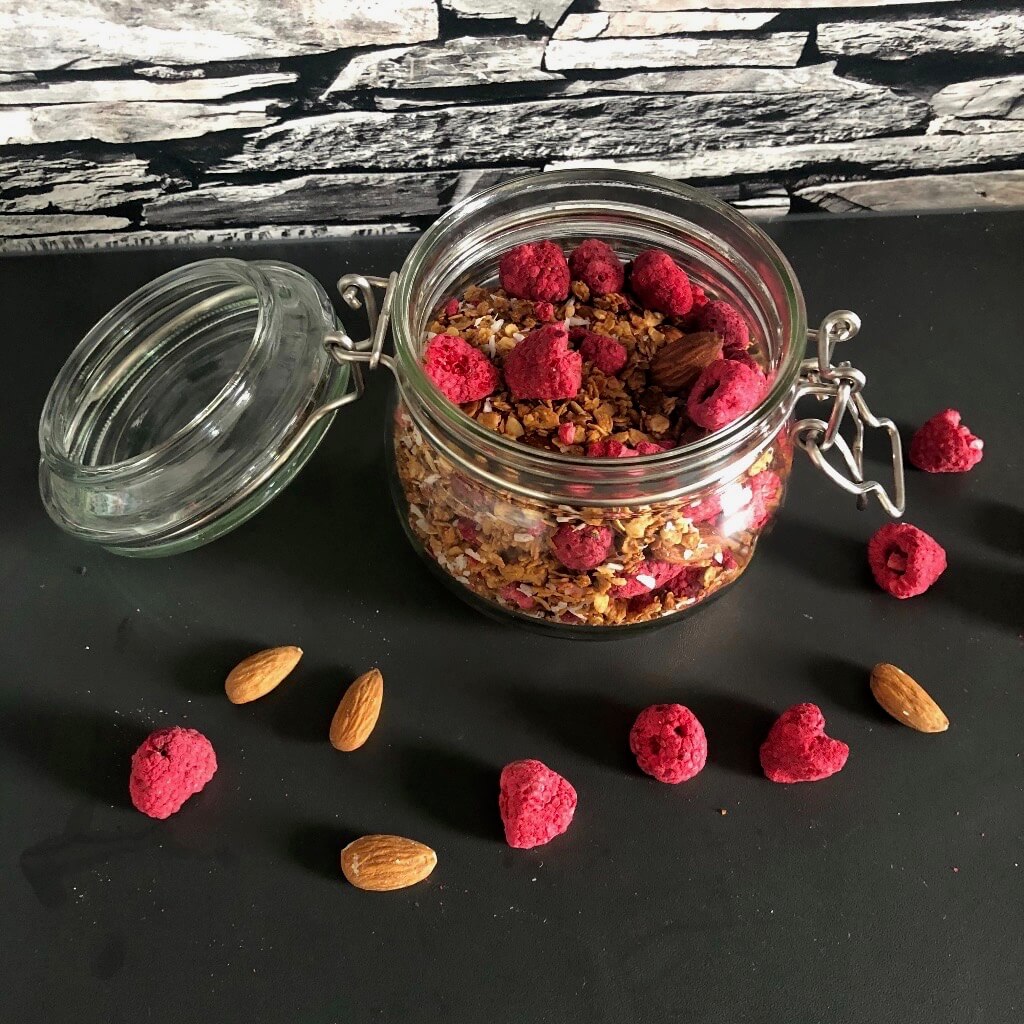 If crunchy muesli with seeds and nuts such as almonds or walnuts is too boring for you, you can use dried fruits and berries. Sultanas, apricots or banana chips, for example, are suitable for crunchy muesli. Tropical fruits such as figs and dates can also be a real enrichment for your crunchy muesli. However, make sure that you only add them after frying, otherwise they will become too hard.
All kinds of berries are also suitable for your crunchy muesli. If you want to avoid extra carbohydrates and sugar, blackberries, raspberries and strawberries are a good choice. You can add these in the form of dried fruit or fresh fruit. They all contain valuable vitamins and minerals.
Have you ever tried spices in muesli?
Using spices can give your oat crunchy muesli the final touch. The most popular and widespread spice is cinnamon. However, you should always go for Ceylon cinnamon, which is much healthier than Cassia cinnamon. Other popular spices for crunchy muesli are vanilla, cocoa or rosemary. In addition, nutmeg or allspice can also be used for crispy muesli, depending on taste. You should never underestimate the effect of spices on the taste of your crunchy muesli.
When muesli has to go quickly
Since there is often little time for breakfast in the morning and a quick solution is needed, ready-made crunchy muesli can help you. Verival crunchy muesli products are produced in the Tyrolean Alps and are absolutely organic.
The different varieties all promise a particularly varied breakfast. Verival offers a total of eight different recipes for a healthy breakfast. These include "Oat", "Blueberry-Apple" or "Orange-Acerola". If you can't decide, you should choose the "Fruit Crunchy Mix", which combines all varieties.
As you have now learned, crunchy mueslis offer everyone the chance to find their own taste. Almost no dish offers as many variations of delicious and healthy ingredients as crunchy muesli. With the right mix of vitamins, minerals and fibre, you can find your favourite crunchy muesli and start the day on a healthy note.
Previous post
What is the difference between oat flakes and porridge?