Warm breakfast helps against tiredness – how to eat yourself awake!
January 29, 2020
You often feel tired all day long? In the morning you can't get out of bed and it doesn't really get any better during the day? Especially in winter, the darkness and cold contribute to this. Of course, this is not only a physical burden but also a psychological one.


First of all, you may think of the typical household remedies like coffee, lots of fresh air, exercise, enough sleep and so on, but that alone often doesn't help. Do you perhaps feel the same way? – Then you should definitely try this nutritional trick: Warm breakfast. Sounds unbelievable, but it works.

A warm breakfast quickly helps with fatigue and listlessness
Hundreds of thousands of years ago the Chinese discovered the advantages of a warm breakfast in TCM (Traditional Chinese Medicine). In TCM nutritional science, our digestive system is the centre of our existence and is therefore directly related to our well-being.
According to our internal organ clock, our stomach and intestine work most effectively from 7:00 to 11:00 am. This is therefore also the best time window for food intake. This means you already doing it right just by having breakfast at all.
If you allow yourself to have a cooked meal, you will make your body really happy. Our stomach can transform warm food, such as a cooked porridge, a lot easier than cold food. As a result, you use less energy to digest and can get much more strength from the nutrients you take in.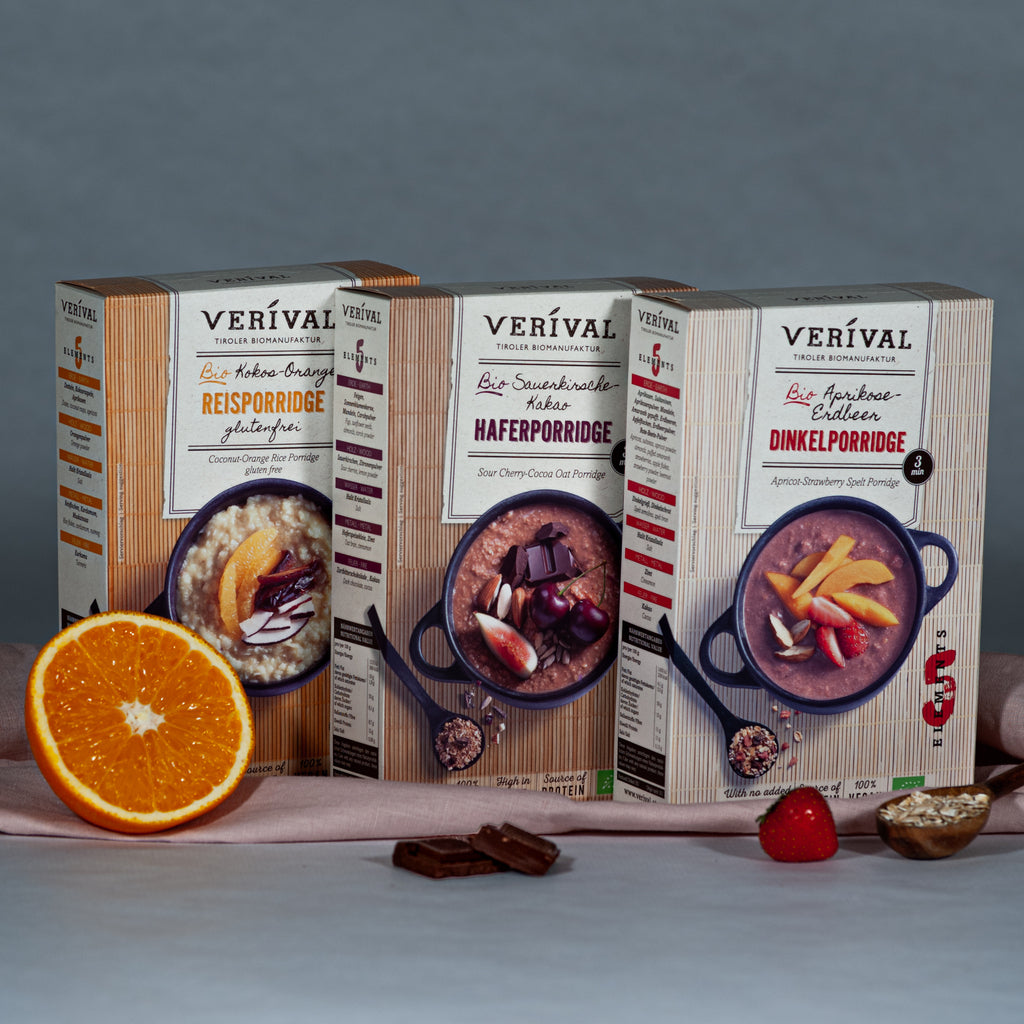 5 decisive advantages of a warm breakfast
Warm breakfast supports our digestion and prevents digestive problems
You stay full longer and hunger pangs don't stand a chance
Your body saves energy because it can digest warm food easier
A cooked breakfast warms your body from the inside and strengthens your immune system
You don't feel too full, but still pleasantly full


Porridge provides you with important nutrients and energy in the morning
A balanced breakfast should contain these four components from a nutritional point of view: carbohydrates, fat, protein and fruit or vegetables. Porridge contains all of these. The basis for the warm porridge consists of oat flakes or oat bran cooked in water or milk.
The oats from which the oat flakes are made are even so healthy that a working group at the University of Würzburg voted it the medicinal plant of the year in 2017. The fibre in the small miracle flakes ensures that you stay full for a long time, but still feel light as a feather.


Moreover, oat flakes also contain valuable long-chain carbohydrates, an optimal protein composition, lots of unsaturated fatty acids, vitamins and minerals.
And so that you can also look forward to your warm breakfast in terms of taste, you can simply add fresh fruit, nuts, seeds or a little bit of honey to your porridge depending on your mood and preferences. A tip to not get cold in winter: simply cook the cold fruit with the porridge.

Print Recipe
Porridge basic recipe – sugarfree and vegan
The Scottish porridge is very easy and quick to prepare. You only need three
ingredients for the basic recipe and then you can add your favourite fruits and
spices.
Ingredients
180

ml

milk or plant-based drink

3-4

tbsp

oat flakes

1

pinch of salt
Instructions
Bring the milk (or plant-based drink) to a boil in a pot.

Add the oat flakes and turn the heat down to a low temperature.

Let the porridge simmer for about 5 minutes (stir constantly with a wooden spoon or a spurtle so that the milk does not burn and the porridge gets a nice creamy texture).

Remove the pot from the stove and allow the porridge to simmer until it has the right consistency

Add a pinch of salt at the end. This enhances the taste of the porridge even more, whether you want to enjoy your porridge with sweet or savoury toppings.
Next post
Do I eat too much sugar?
#oats
#Porridge
#Porridge
#tcm porridges
#tiredness
#Verival
#Verival
#warm breakfast
Products from this post